Our Story
We started making our "alcohol alternative" drinks many years ago. At first just for ourselves and then for our friends who wanted to party but did not want alcohol or anything else that would be used by others to enhance the "party" experience.
So we made some drinks that were great for use at pubs and clubs as well as festivals. The first blend we made was our EUPHORIA blend as we all loved Damiana and it's effects.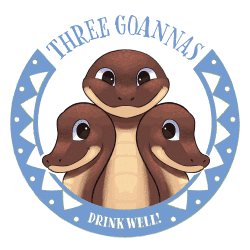 We then developed our RECOVERY blend for those of us still silly enough to like a drink or three of alcohol but smart enough to want to experience it differently.​
We continued using these blends among ourselves for many years until recently when we decided to share our party secrets with others.
​
Introducing THREE GOANNAS – Drink well!