Fire Cider #9
Fire Cider no.9 is Three Goannas take on a traditional remedy known as Fire Cider or Master Tonic. Fire Cider no.9 contains 9 ingredients carried in apple cider vinegar (with the mother). All of our ingredients are sourced locally (where possible) and we are proud to use Harcourt Apple Cider Vinegar in our product.
Ingredients: apple cider vinegar with "the mother", lemon, chilli, onion, horseradish, ginger, garlic, turmeric, cayenne pepper, black pepper.
We deliberately didn't strain the product and have kept all the ingredients in the jar. Please use them: great in soup, stir fry and casseroles. Alternatively strain off the matter and keep the liquid.
Once opened please store in the fridge for prolonged use.
Fire Cider no.9 is spicy and we recommend drinking some water after you take it. At home we each take 1 tbsp per day. However to start with we recommend 1 tsp per day and work your way up.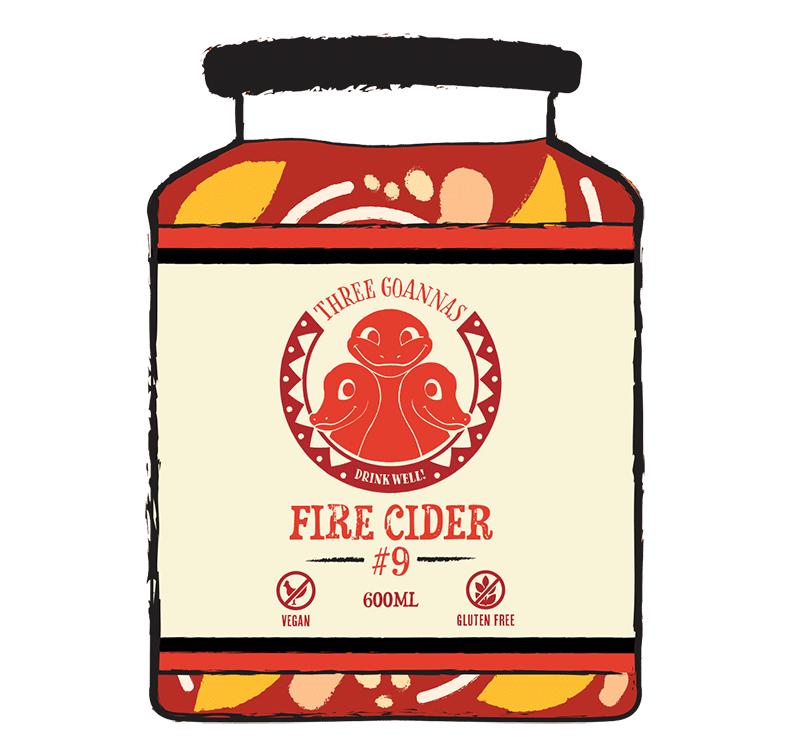 Different ways to consume Fire Cider no.9
As a tall drink
Add 1tspn – 1tbsp Fire Cider no.9 to a glass
Add 1 tbsp honey
Add still or carbonated water while stirring
As a hot drink
Add 1tspn – 1tbsp Fire Cider no.9 to a mug
Add 1 tbsp honey
Add hot water while stirring
As a cocktail we like to call The Flaming Mary
Add 1tspn – 1tbsp Fire Cider no.9 to a glass
Add 200ml tomato juice or V8 spicy vegetable juice
Add a squeeze of lemon
Serve with a stick of celery and a slice of lemon
Buy Now